Neo Geo MVS
Jump to navigation
Jump to search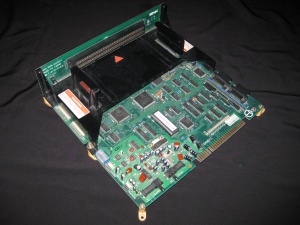 The MVS is the arcade verison of the Neo Geo AES. Both systems are practically identical in technical terms, however the cartridges use different ports and pinouts.
Models
There are several models of the Neo Geo arcade PCB, their main difference is the capability to use several cartridges at the same time to enable switching between them.
An important difference is also JAMMA compatibility. Although Neo-Geo systems are JAMMA based, the MV-2F, MV-4F and MV-6F use different pinouts. It is recommended you check the model of your board and check if you need a JAMMA adapter to plug into your setup. Please check differences at HardMVS.
XRGB-2 Specific settings
Image has no problems on the XRGB-2. As usual with arcade boards, the 220 ohm switch must be used for proper color levels.
H_POS needs to be set to 1 in order to frame the whole screen.
XRGB-3 Specific settings
Screen distortion is present in the upper lines. AFC needs to be set to Manual and AFC level to a value of 3. As usual with arcade PCBs, the 220 ohm setting must be used or the proper adjustment on the color lines via the potentiometers on your SuperGUN must be tuned.
All this information applies to the GAME IN port only, using RGB21.
Setting SYNC_MODE to OFF, unlocking vsync, helps to increase compatibility with displays. However this may cause scroll stutter/judder.
If you are using scanlines and there appears to be two or three randomly thicker scanlines, try manually changing V_WIDTH from 32 to 33.
OSSC Specific settings
While most MVS consoles should work with the OSSC with no adjustments, some machines may require the following settings to be changed in order to sync.
Sync OPT. -> H-PLL Post-Coast - 2 lines
Sync OPT. -> Hsync Tolerance - 8.30us
Models tested
External Links
Hard MVS Excellent Neo geo Hardware resource
Neo-Geo.com The best Neo Geo community around